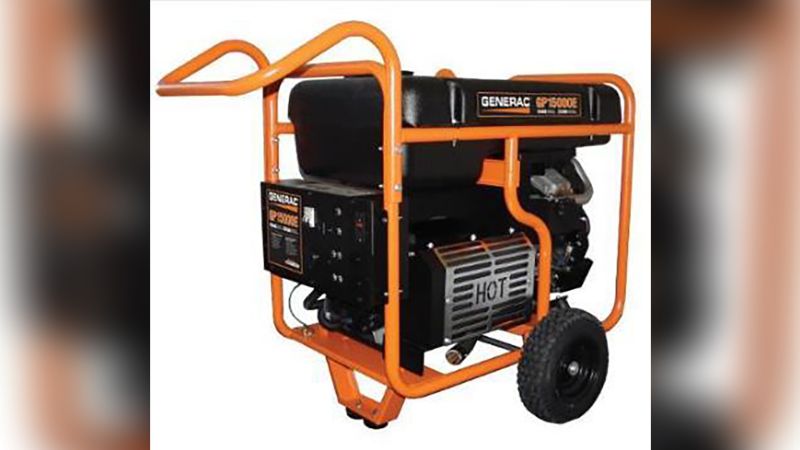 Consumer Product Safety Commission
Generac has recalled about 64,000 of its portable generators after reports of overheating leading to severe burns.


CNN
—

In the midst of this year's devastating hurricane season, with generators in demand, Generac Power Systems recalled about 64,000 of its portable generators after more than two dozen reports of overheating, some of which resulted in severe burns, said the Consumer Product Safety Commission in a press release.
The Wisconsin company received more than two dozen reports, "generators overheating and pressurizing or expelling fuel when opened." At least three incidents resulted in serious burns, the commission said.
The "fuel tank of recalled generators may not properly vent from the rollover valve, causing excess pressure to build up in the gas tank and expel fuel when opened, causing fire and burn risks," the commission said. The group advises people to immediately stop using the recalled generators and contact Generac for a free repair kit.
CNN has contacted Generac for comment.
The generators in question were sold "from April 2011 to June 2023 for between $3,300 and $3,650" at most home improvement stores, the commission said.
Thursday's recall comes during hurricane season, when many people turn to generators following a storm to power their homes.
This year's hurricane season runs from June 1 to November 30 in the Atlantic Ocean, Gulf of Mexico and Caribbean Sea. Tens of thousands of people are currently without power as post-tropical cyclone Lee continues to bring rain, wind and flooding to parts of the country. Atlantic provinces of Canada.
When Hurricane Idalia made landfall in Florida in late August, hundreds of thousands of people were left without power.